Welcome to 
The Institute for the Study of Somatic Education
A 501 (c) 3 Not For Profit Educational Corporation since 1992
---
 Certified Feldenkrais Method® Teacher/Practitioner Training Program


 San Francisco  
 
Our San Francisco VI program is continuing in-person classroom study 
 
We are open for enrollment to transfer students only.

Visits from graduate teacher/practitioners for continuing education are welcome
by prearrangement only, please.

Please contact us for details.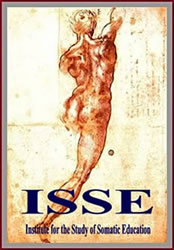 a not for profit educational corporation since 1992

Julie Casson Rubin and Paul Rubin,
Educational Directors
Certified Teacher Trainers, The Feldenkrais Method
---
"When the human nervous system is engaged to organize us in unified action and self-expression, we go beyond the mere mechanics of joints and muscles. The results are often dramatic and quite delightful. This is true whether the task at hand is the rehabilitation of basic functions, the improvement of highly developed skills, or more complex improvements in the quality of our relationship to ourselves and the world."
   - Paul Rubin, Founder and Director of Education, ISSE  

The Feldenkrais Method is about all of these processes. People in physical medicine and physical therapy study the Feldenkrais Method for its efficiency and effectiveness when used to assist in the recovery of "physical function." For people with neurological difficulties - be it Multiple Sclerosis, Cerebral Palsy, stroke, or resulting from accident or injury - the Feldenkrais Method  has a role in helping people make the very best use of what is available to them. Sometimes the recovery is quite remarkable and thought of as "miraculous." However, when we competently address the neurological - that is the learning component - in these situations, it should be no surprise that we do much better than when we address only the peripheral tissue.

The Feldenkrais Method is finding a home in every field in which there exists a relationship between elements of intention, skill, creativity and physical movement. In sport training, in music and music education, in dance and dance education, and in the theater arts the Feldenkrais Method is increasingly acclaimed as a valuable and pertinent means of education.

Whether for the therapist, teacher, performing artist, athlete - or simply as a human being - the Feldenkrais Method offers a simple and yet a sophisticated and profound means for discovering physical and emotional resilience, strength, and self-possession.